What Year Is Your Yamaha
This Yamaha outboard year model chart will only work for Asia Pacific distributed engines. If you have a Yamaha engine that has been bought in from America or Europe direct the parts will still be the same but your model and year model code will be different. You will have to use your own knowledge of your engine to select the appropriate year.
For Asia Pacific engines your year model code is found on the bottom right hand corner of your serial number decal. It will be a single letter as per the diagram below which can then be matched to the chart. Note: The letters will repeat in the below chart so use your judgement as to the correct year, ie: the engine in the picture is a 2003 model and not a 1982 model.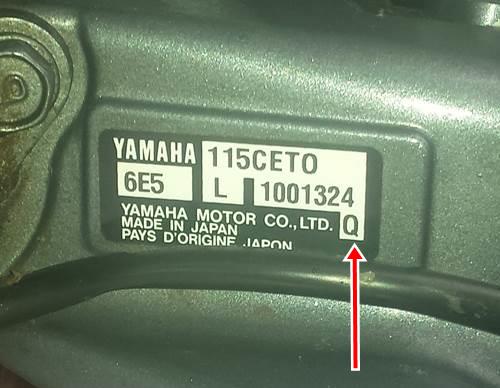 1973
1974
1975
1976
1977
1978
1979
1980
1981
1982
Z
Y
X
W
V
U
T
S
R
Q
 
 
 
 
 
 
 
 
 
 
1983
1984
1985
1986
1987
1988
1989
1990
1991
1992
P
L
K
J
H
G
F
D
C
B
 
 
 
 
 
 
 
 
 
 
1993
1994
1995
1996
1997
1998
1999
2000
2001
2002
A
Z
Y
X
W
V
U
T
S
R
 
 
 
 
 
 
 
 
 
 
2003
2004
2005
2006
2007
2008
2009
2010
2011
2012
Q
P
N
K
J
H
G
F
D
C
 
 
 
 
 
 
 
 
 
 
2013
2014
2015 
2016 
 2017
2018 
 
 
 
 
B
A
Z
Y
X
W