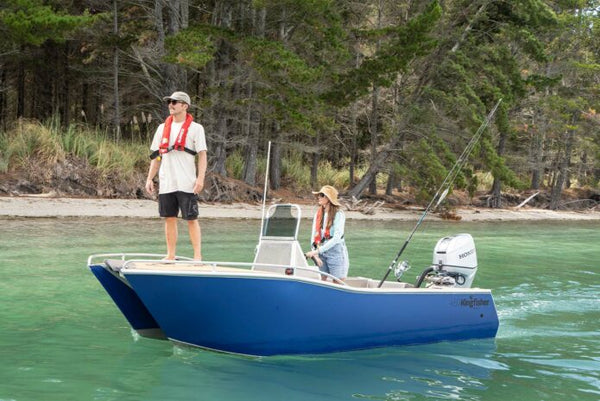 Nothing beats boating, especially when we're surrounded by great waterways right up and down our coastline! Whether you're planning on fishing, cruising or water sports, here are our top boating tips for a great season of boating.
1. Plan ahead
With new online tools and apps, it's easier than ever to plan ahead for a day on the boat! Checkout the free boating app Deckee to see how busy the boat ramp is, where other boats are in real time and for safety alerts and local updates. Head over to HuntsMarine.com.au for tides, fishing bag limits, weather reports and more boating tips and articles.
If you're a new boat owner, know how to launch your boat safely, consider which boat ramp you'll use and where you'll park and even practice reversing your boat trailer so you can get on the water faster,


2. Safety first
After a Winter break, it's worth taking off your boat cover or checking over your boat before you get to the boat ramp and of course always make sure you have the right safety gear for your passengers before you go. If you haven't been out on the water for a while then our simple boat safety guide has you covered, and you can download the Marine Safety app from Marine Safety NSW here.


3. Check the Weather
Even if there are clear skies overhead, always check the tides, weather forecast and radar so you can plan for the conditions and be prepared for rough water if needed. Remember that the water can be murky with submerged hazards following lots of rain and storms, and in Summer there can be king tides along the NSW coast with a much higher high tide – and far less water at low tide.


4. Pack the right gear
From water-skiing, ski-tubing or knee boarding to swimming off the boat with the kids or exploring new waterways, make sure you have the right gear for your passengers. Boat covers or biminis provide shade, a marine radio is an essential if you're heading offshore and the right lighting & comfortable seating.


5. Catch more fish
If you're planning on fishing, then you'll need a fishing licence in NSW. To help catch more fish consider a fish finder, fishing maps and echo sounders to help you find where the fish are. If you're hopping to take some fish home for dinner then you can check bag limits and legal fish sizes here.
Nothing beats a great day boating on our beautiful waterways and at Hunts Marine we make it easy.  With 75 years of experience, Hunts Marine is a third generation, family-owned business with extensive experience in recreational boating. Find out more at HuntsMarine.com.au, give us a call on (02) 9546-1324 or get in touch with our team at Hunts Marine in Sydney, Wollongong or Batemans Bay.
October 09, 2023

by Sarah Ford