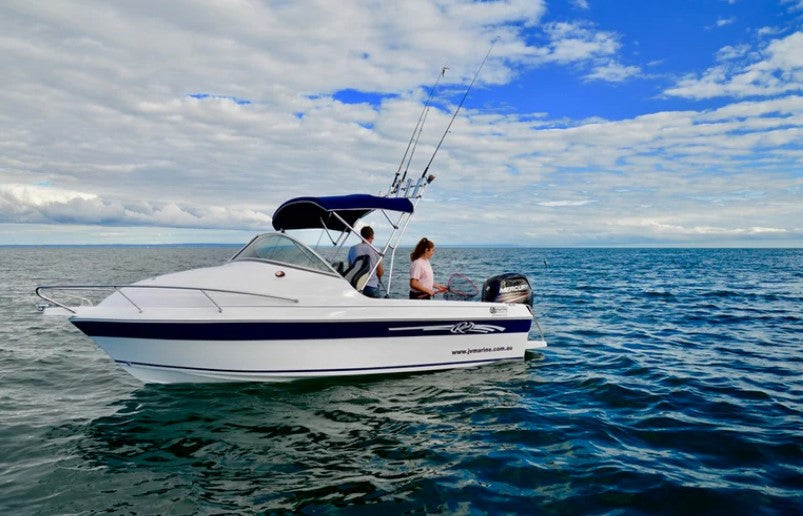 Planning on boating with kids? Whether you're exploring your local waterways, enjoying some family fishing, or making the most of long Summer days, these top tips can make all the difference – so everyone has a great time!  
1. Safety first. Before you head out, make sure you take an extra pair of hands to help look after the kids and to take over if something happens to you. Anyone responsible for supervising kids on the water should know how to swim and be familiar with basic boating and survival techniques. 
Use the right life jackets. This might mean waiting until your baby is old enough to fit one before going out boating. Make sure every passenger on your boat is wearing the correct size for their age with crotch straps secured to make sure they stay on properly, as children can slip out of adult life jackets when they're in the water. Explain to your kids the importance of keeping their life jackets on and remember that they look to you as a role model, so be sure to wear yours to teach them good habits. 
The safest seat on the boat for younger children or infants is on your lap. Boats don't have the equivalent of booster seats, so the most secure spot for babies is in your arms. 
2. Plan ahead. Check the weather, tides and plan on which boat ramp to use and where you can park. The sooner you can get on the water and avoid bored, tired kids the better! Family boating is at its best when you have the right gear for your trip, whether that's cruising, exploring, water sports, swimming or fishing.
Always pack a spare change of clothes, towel, snacks and drinks, as well as sunglasses to cut the glare and a hat that will stay on while you're on the move.  To avoid getting excessive sun or heat exposure, you should make sure there is some shade available on the boat. A bimini top is the best way of keeping the sun off little ones and stopping them from overheating, but you should also stock beach umbrellas and sun hats for extra protection. 
Make sure you bring along lots of snacks, fluids and anything else you'll need for your baby or toddler, including nappies and lotions. Wet wipes are perfect for kids of any age! It's also a good idea to bring along some toys or other things to keep them entertained in case they get bored (kids might not be as interested in fishing as you). 
Pack warmer clothes as well as swimming gear and towels - kids can get cold easily out on the water so you want to be ready if a chill breeze picks up. 
3. Plan for Fun. Consider the age of your children and their interests. If you're planning on dangling a line then it's best to have some extra rods or reels rigged up and ready to go. Consider using a lure or bait that the kids will be comfortable with, and be prepared to spend most of your time casting, baiting and re-rigging their lines! Younger kids love looking for fish – and trying to catch them – so a small net and bucket for any catches will be a winner. It's never too early to teach kids to catch and release, and to measure any catches to see if they are regulation size if you're planning on keeping them.
4. Teach them the basics of boating. Explain the basic rules and procedures of boating before heading out. It's important to be clear about safety even from a very young age - simple things like staying seated and holding on while travelling are easy for younger family members to understand and follow. This is also an opportunity to share your passion for boating with your kids! If your children are a bit older than give them each a job – it may even help you out as well.
5. Be prepared for naptime. Having a secure, comfortable space where your kids can take a nap is essential. With all of the sun, fresh air and excitement, you might find your little ones drooping and in need of a quick sleep onboard in the afternoon.
You may also be glad to have a spot to put your baby down when you need to free up your hands for a practical task. 
Boating with your family is more fun when you have space for everyone. Come on down and see us at one of our stores and we'll help you pick out the perfect boat to fit your family and lifestyle! We can even have you in your own boat for Summer! Find out more or check out more boating articles and tips at HuntsMarine.com.au, give us a call on (02) 9546-1324 or get in touch with our team at Hunts Marine in Sydney, Wollongong or Batemans Bay.
September 12, 2023

by Sarah Ford