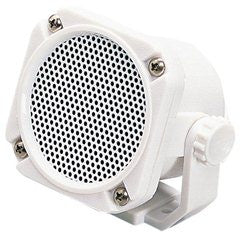 Water resistant extension speaker. Available in black or white. White supplied as standard when ordering online. Suits 27 Meg and VHF radios.
Got a question? Phone the accessories department on (02) 9546-1324 or email accessories@huntsmarine.com.au
You might also like
X
$162.00
The GME GX700 is a high performance VHF FM radio designed to operate in the 156 – 163 MHz marine band. With a number of enhanced features including fully user programmable Channel Scanning, Dual Watch and Triple Watch functions and two programmable 'instant' channel memories, the GX700 is ideal for use on all vessel types. Available in white or black, the GX700's additional rear microphone input gives the user the option of running a 5m or 8m extension cable to any convenient location on the vessel. By adding the waterproof blanking plug to the front mic input this setup is ideal for 'above windscreen' installations in Hard-Top vessels.
X
$44.00
Available in black or white, this is the genuine replacement handset for the GX700 above.
X
$23.00
Available in either Black or White, this flush mount kits suits either the GX700 VHF or the GR300 AM/FM Stereo. It's easy to install and the dimensions of the cutout and the outer perimeter of the housing are in the 2nd picture.